CUSTOM POOLS, SPAS, AND OUTDOOR LIVING.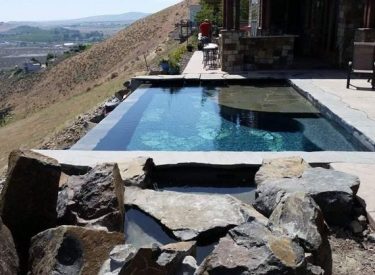 Residential and Commercial Pools & Spas
Backyard Escapes NW specializes in the design & construction of Shotcrete & Guinte pools. Shotcrete and Guinte allow us to design and construct our pools and spas in any shape or size, and the customization options are virtually limitless. The last thing we want to do is limit our customers ability to create their own backyard oasis.
More importantly, we want to know that our customers are getting the most out of their investment. With 25+ years of experience building in-ground swimming pools here in the North West, we know that concrete offers a strength and rigidity that fiberglass or vinyl pool will not. We deliver our customers a superior quality and long-lasting pool shell that provides a lifetime of maintenance free fun the sun.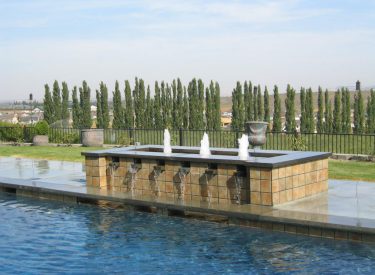 Customize Your Pool, Spa, and Outdoor Living Area
When investing into your happiness with an inground – pool features will magnify your enjoyment. You can see a list of the most commonly requested optional features by clicking here.
Selecting the right pool features is important. First, you're going to want to come up with a budget. How much of your budget do you want to spend on the customization of your backyard oasis. Next, decide which features you are most essential to you, and which features are optional. If it helps, we can send you over a sheet that provides you with a rough estimate of what each feature will cost. Once you know what you want, let us know so we can put together a more accurate timeline and budget for these features!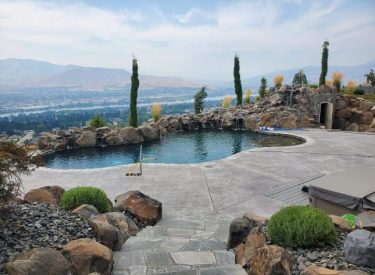 Hardscapes and Landscaping are essential parts of any outdoor living space. Add patio pavers, outdoor kitchens, retaining walls, pergolas, fire pits, and pizza ovens, or we can even have your very own personal grotto! 
Want to add some color? That's where the landscaping comes in. Beautify your outdoor living area with sod, shrubs, trees, plants, or a garden area. Your choices are limitless. 
Why choose us as your swimming pool and spa builder?
We are a full service custom pool, spa, and outdoor living area designer and builder.
Designing and building the perfect outdoor living space usually requires excavating, plumbing, electrical, concrete, masons, and various other contractors. Trying to manage the budgeting, scheduling, and quality control of all these different contractors will drastically increase the timeline and budget of your project if not managed perfectly. Because we handle everything in house, we are able to seamlessly integrate all the various aspects of the building process saving our customers both time & money.
Chelan, Douglas, Benton, Kittitas, Franklin, and Grant County.
Fully Licensed, Bonded, And Insured
We are very proud to be serving our local area for over 30 years!